2019 DODGE CHALLENGER
EXTERIOR
COMBINED FUEL CONSUMPTION OF DODGE CHALLENGER MODELS WITH AVAILABLE V8-V6 PETROL ENGINES: 14,7 – 11,2 L/100KM; COMBINED CO2-EMISSIONS: 392 – 272 G/KM; CO2 EFFICIENCY CLASS: G*

COMBINED FUEL CONSUMPTION OF DODGE CHALLENGER MODELS WITH AVAILABLE V8-V6 PETROL ENGINES: 14,7 – 11,2 L/100KM; COMBINED CO2-EMISSIONS: 392 – 272 G/KM; CO2 EFFICIENCY CLASS: G*
2019 DODGE CHALLENGER
EXTERIOR
STRONG AND STYLISH
The hood of your Challenger can make quite the first impression. Choose one that fits your attitude.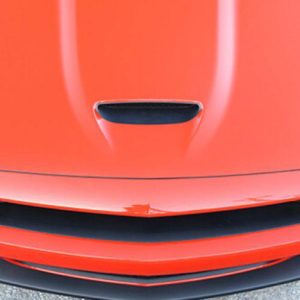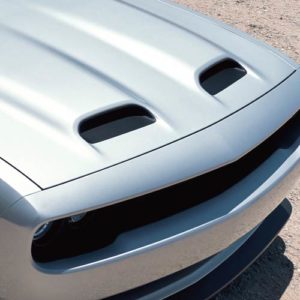 COMBINED FUEL CONSUMPTION OF DODGE CHALLENGER MODELS WITH AVAILABLE V8-V6 PETROL ENGINES: 14,7 – 11,2 L/100KM; COMBINED CO2-EMISSIONS: 392 – 272 G/KM; CO2 EFFICIENCY CLASS: G*
GT AWD
Display robust power with this body-color hood, standard on GT AWD model.
R/T SCAT PACK
The Dodge Challenger R/T Scat Pack includes performance-enhancing technologies including patented Air-Catcher® Headlamps and dual air extractors.
SRT® DUAL SNORKEL HOOD
With a Mopar® cold air intake, the Challenger SRT® Hellcat is able to reach maximum performance—delivering on its reputation as one of the most menacing muscle cars ever built.
FUEL CONSUMPTION: CITY 18,1 L/100KM, HWY 10,7 L/100KM, COMB. 14,7 L/100KM. CO2 EMISSION: 392 G/KM, CO2 EFFICIENCY CLASS: G*
STOP 'EM IN THEIR TRACKS
Classic full-width rear LED split taillamps with gloss black surrounds stop more than just traffic.
FUEL CONSUMPTION: CITY 18,1 L/100KM, HWY 10,7 L/100KM, COMB. 14,7 L/100KM. CO2 EMISSION: 392 G/KM, CO2 EFFICIENCY CLASS: G*
COMBINED FUEL CONSUMPTION OF DODGE MODELS WITH AVAILABLE V8-V6 PETROL ENGINES: 14,7 – 11,2 L/100KM; COMBINED CO2-EMISSIONS: 395 – 272 G/KM; CO2 EFFICIENCY CLASS: G*